Top Quality Australian Bengal Cats
Ashmiyah Bengal Cats specialising in the breeding of Brown, Silver, Blue, and Snow Bengal cat genetics
The Ashmiyah Breeding Program
Our Bengal cat breeding program was established in 2009.
Ashmiyah Bengal Cats have been dedicated to the genetics behind the Bengal breed from the start.  Our Bengal queens are multiple generations of our very own pedigree lines. While our current studs have been chosen to introduce non-related genetic diversity to maintain outstanding qualities and a minimum breeding coefficiency.
Ashmiyah Wild Styles
Warm, Golden Brown Bengal Cat – Tri-coloured Rosettes
Styles is an exceptional example of the Bengal breed.  This special queen displays perfect coat clarity and vibrant rosettes. With a body and pattern like this, she looks like a Leopard who has just stepped out of the forest.
Her rosettes continue down her thick, well-balanced tail and her underside is adult whited. A rare and highly desirable trait along with her gold Glitter.
One of my favourite things about Styles is that she's my dedicated Yogi partner.  Every day without fail she joins in my yoga sessions.
Ashmiyah Charlie's Angel
Warm, Golden Brown Bengal Cat – Tri-coloured rosettes
Our very special Charlie captures the hearts of all who meet her.  She's a velcro cat. Always on a lap, always having a chat, and always following us around. She can be a bit intense with her affectionate nature, but we wouldn't change her for anything!
She has all the traditional Bengal breed traits. Stunning tri-coloured rosettes, vivid contrast, a lightened underside, and belly spots galore. Watching her prance around the house is the closest we'll ever come to having an Asian Leopard Cat ancestor under our feet and snuggling up in our bed.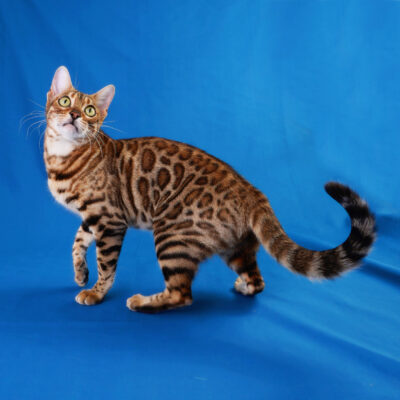 Ashmiyah Strike A Pose
Warm, Golden Brown Bengal Cat – Tri-coloured rosettes
Stryker was a must-have keeper girl for Ashmiyah Bengals.  Her qualities shone from the second she was born.  She has the looks of a Wildling with the nature of the gentlest creature on earth.
She's a perfect mum cat who dotes on her babies and loves sharing them with us.
Stryker is a fine match to the early generation cats in her pedigree. She has a wild pattern, beautiful buttery coloured background, and rosetting down her thick tail.
When you are looking for quality and class, Styrker ticks all the boxes.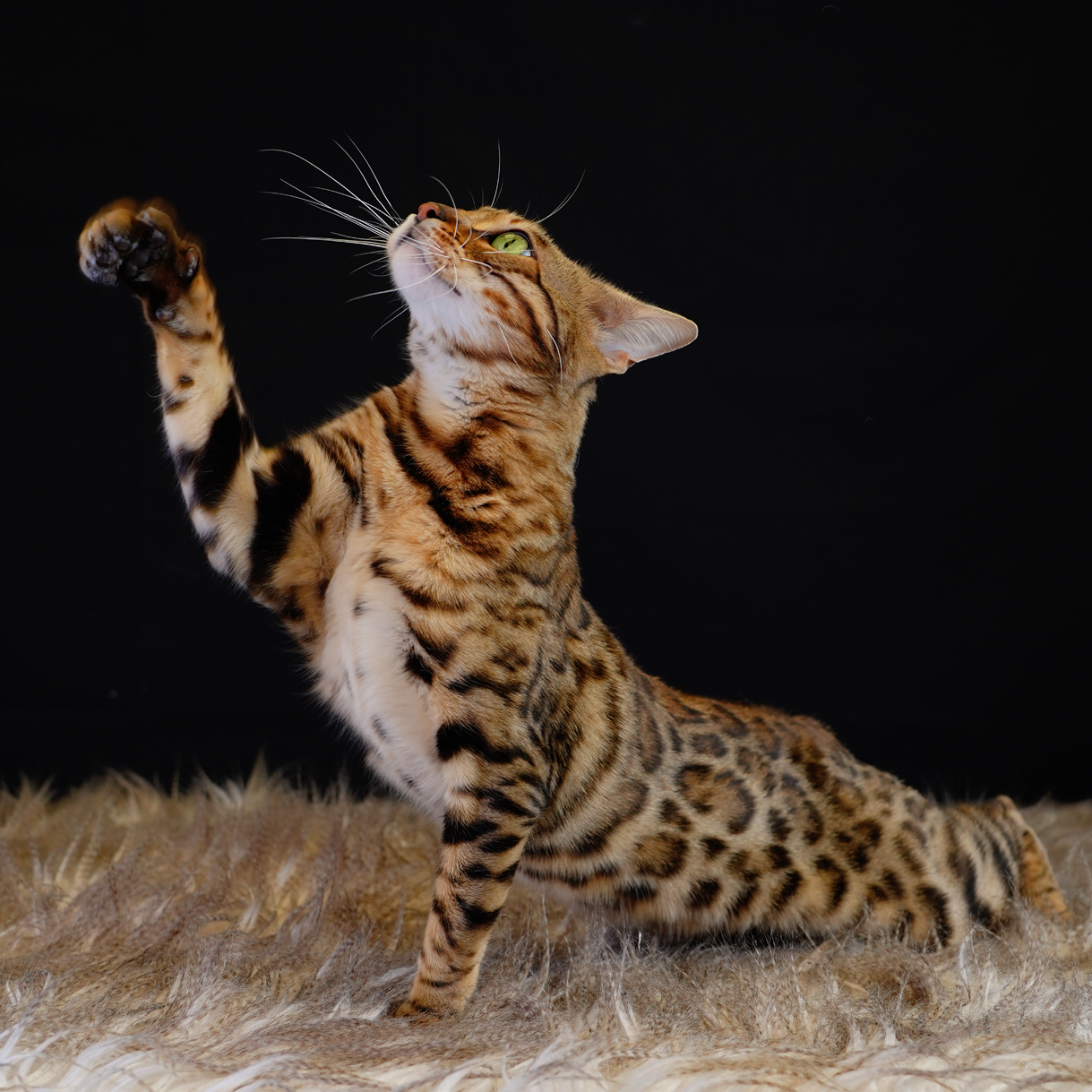 Ashmiyah Indigo Mist
Blue Bengal Cat – Two-toned rosettes
Indigo is my rare Blue bombshell. She turns heads everywhere with her impressive and very rare color.
The blue Bengal cat has blue/grey markings over a base coat which is a soft peachy tone.  Their undersides are crisp white with blue spotting.
Blue Bengal cats of this caliber are scarce. Over our years of breeding, we saw the Blue Bengal cat almost disappear.
Through a lot of research and by purchasing the right cats carrying the genetics, we managed to secure and breed one of the very best pedigree combinations for this colour.
The imported cats behind our beloved Indigo are highly prized for their body structure and exceptional coat clarity. We're thrilled to know we have retained a part of the Bengal cat breed which was almost lost.
Indi's an exceptionally nurturing mum to her kittens and raises the best Bengal babies around. She loves having a good conversation and is quite the chatty one.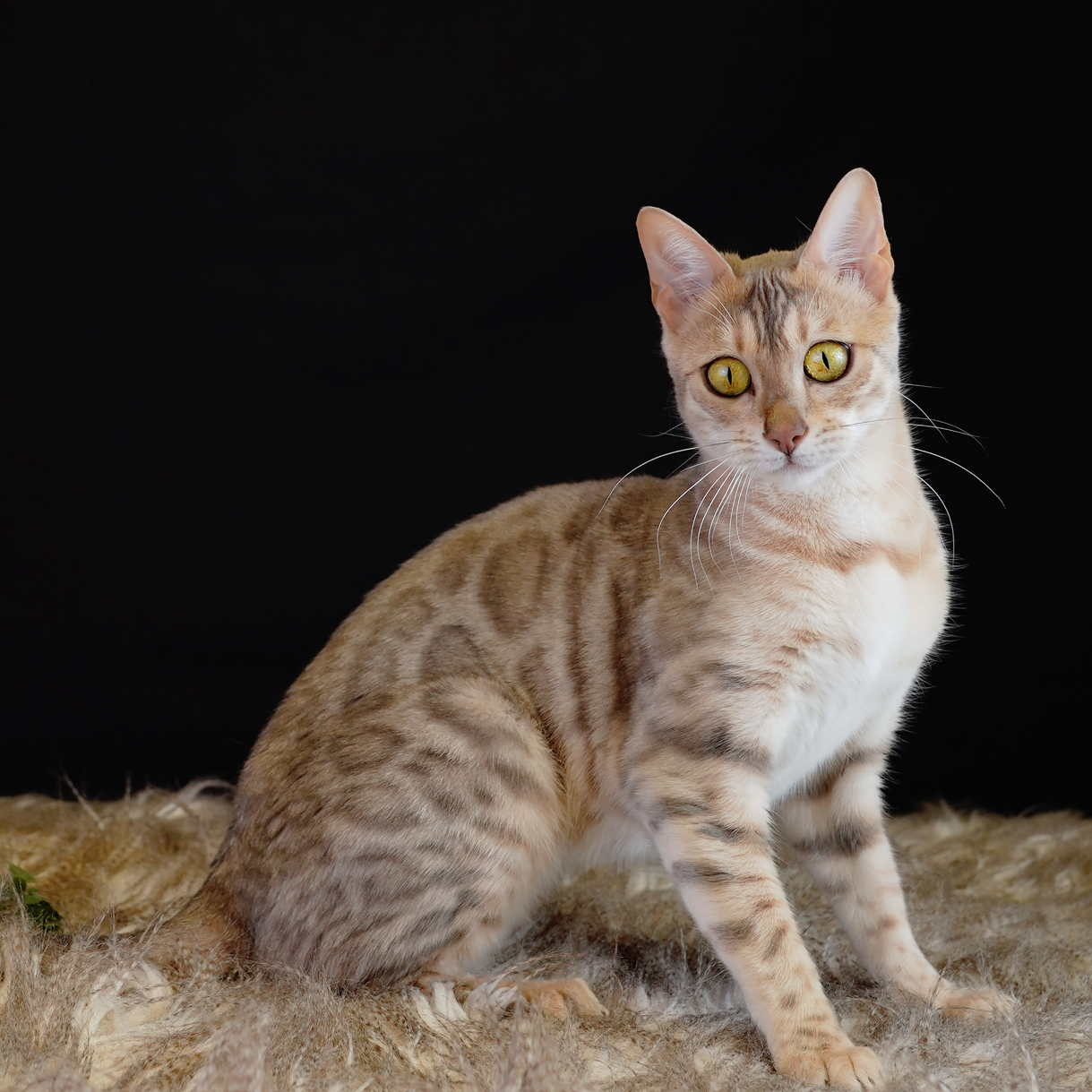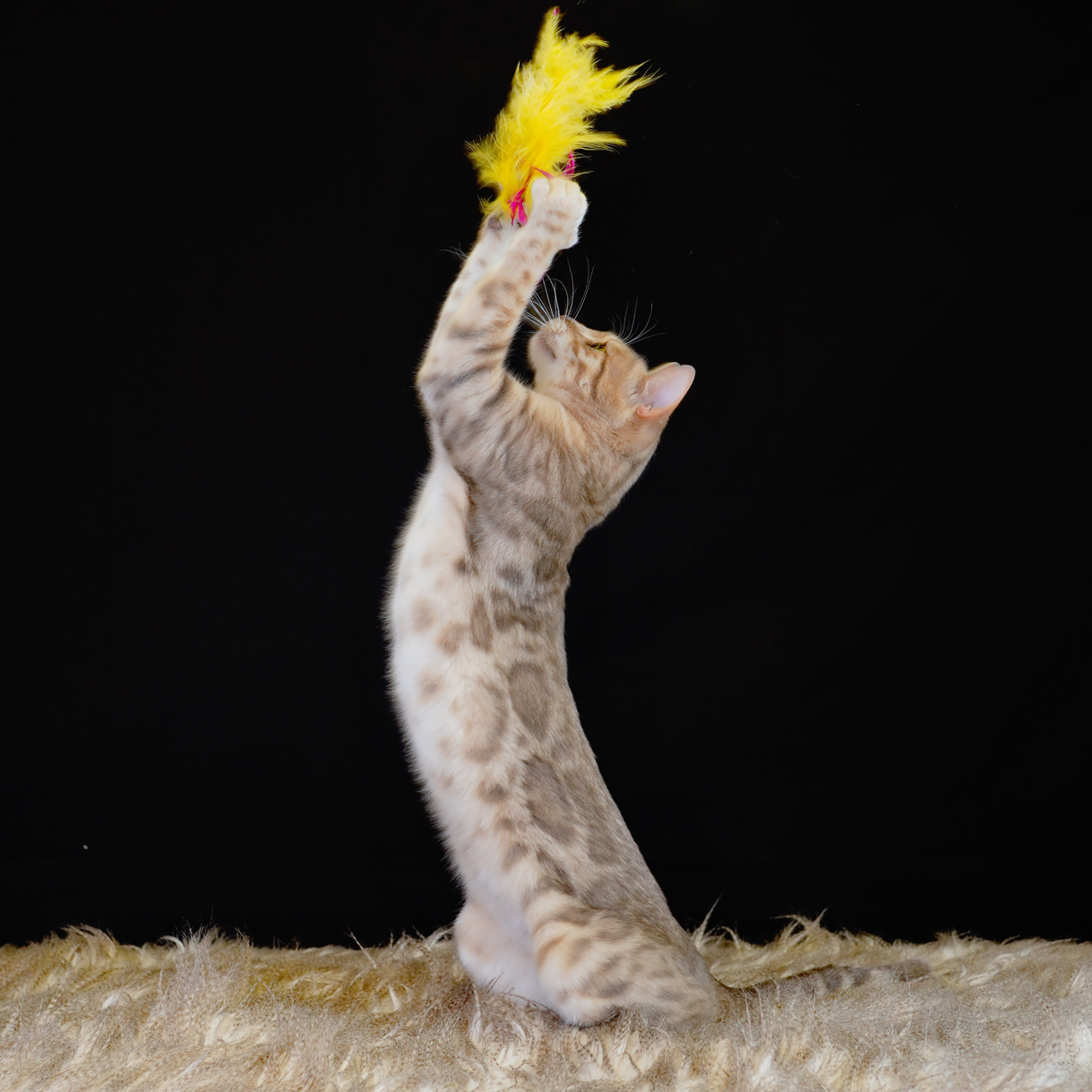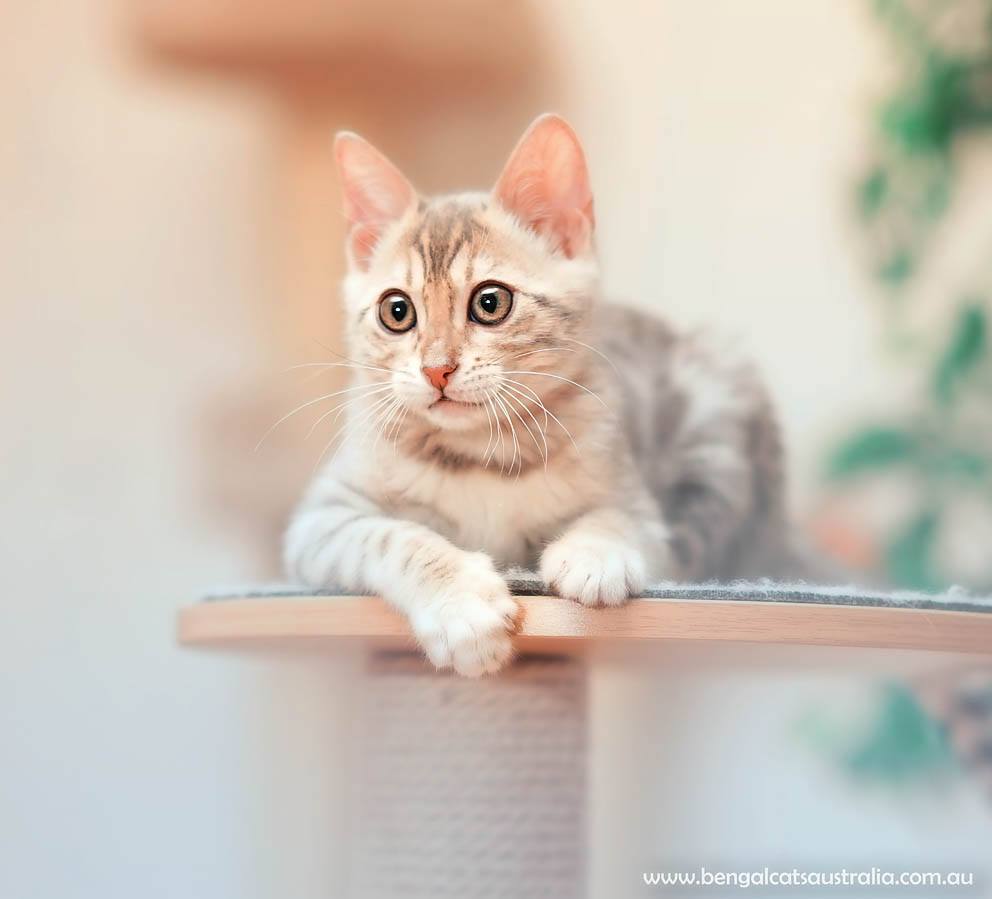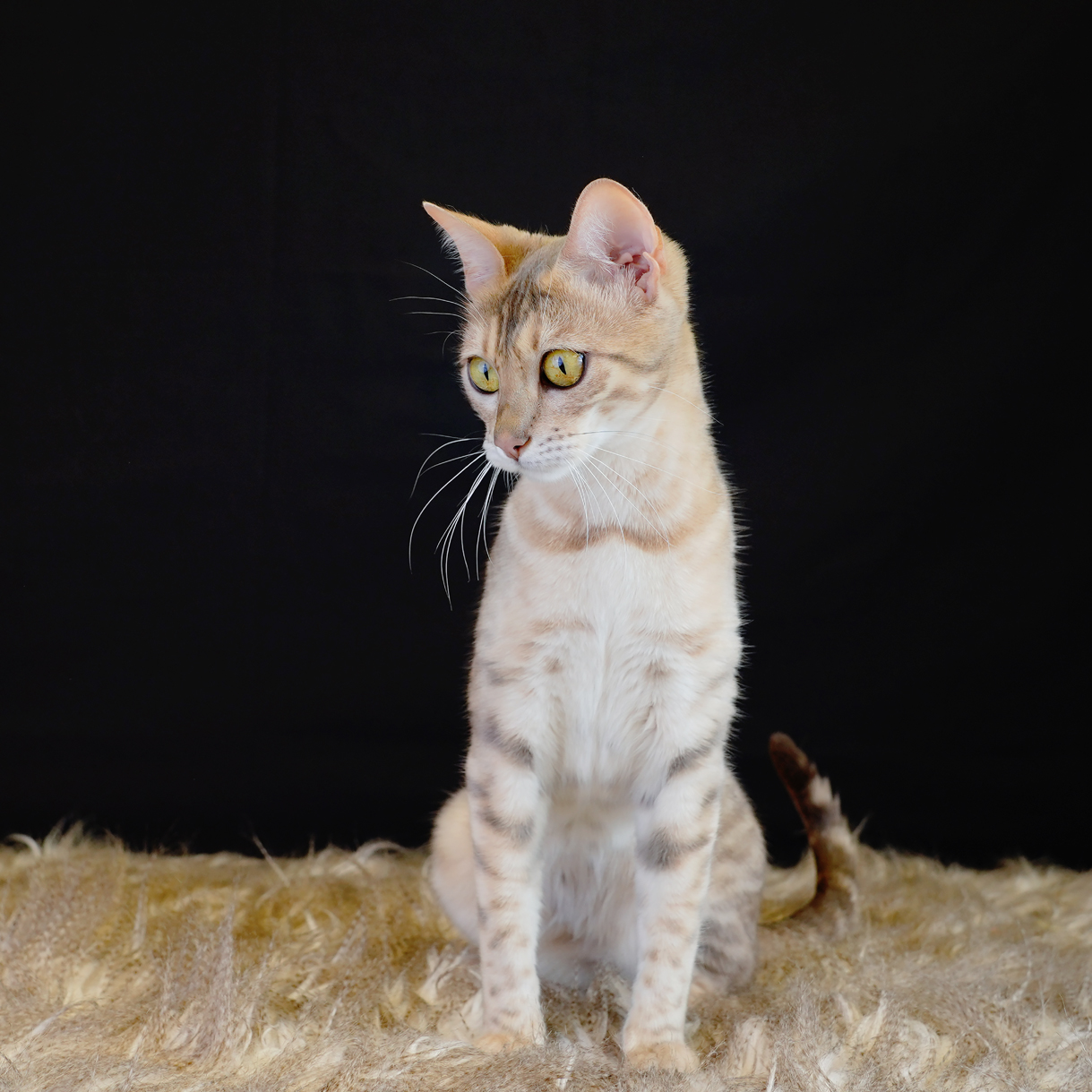 Sancheita Sakari Spirit
Silver Seal Mink Bengal Cat – Two-toned rosettes
Sakari is the latest addition to our breeding program.  He brings further genetic diversity to our cattery and a stellar pedigree of imported Bengal cats. 
Being a Silver Seal Mink this precious boy brings all three Snow Bengal colours to us. The Seal Lynx Bengal, the Seal Mink Bengal, and the Seal Sepia Bengal.
As he is also a Silver Bengal (yes, genetics are tricky) We are now producing some of Australia's finest Silver Bengal cats. Quality Silvers with clear coats that do not display the muddying yellow undertones are rare and the colour is not an easy one to breed.  
He is the sweetest boy with an incredible temperament and is a huge credit to his breeder.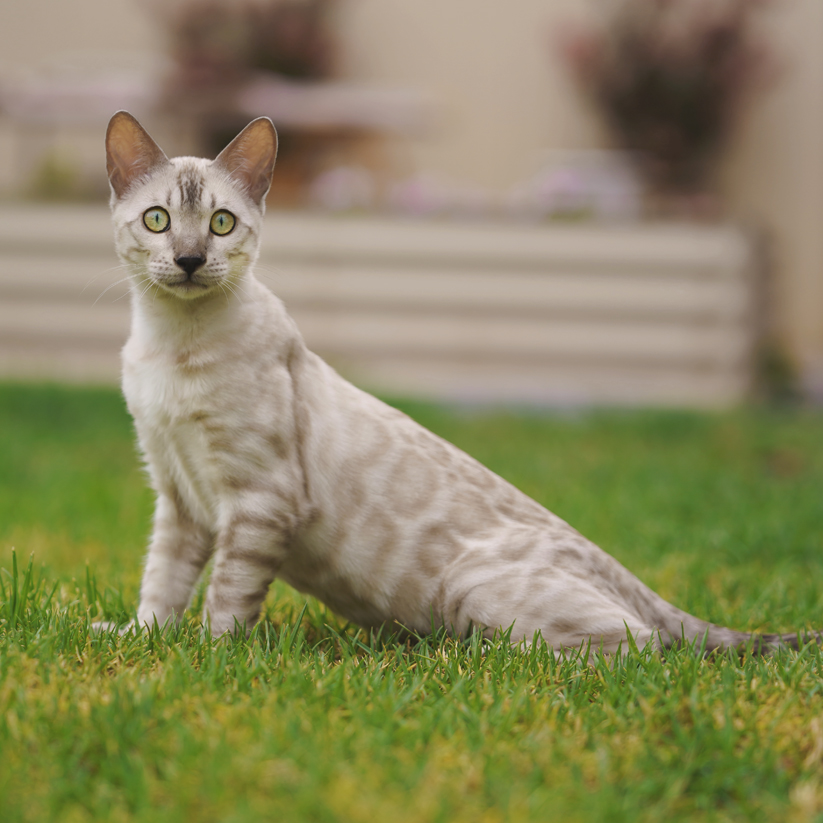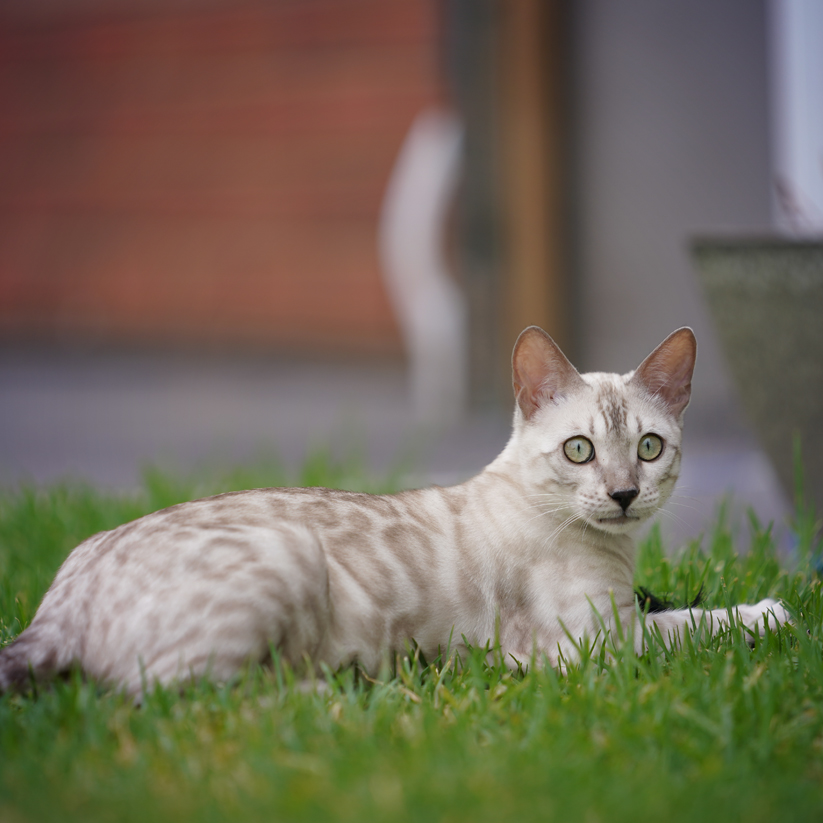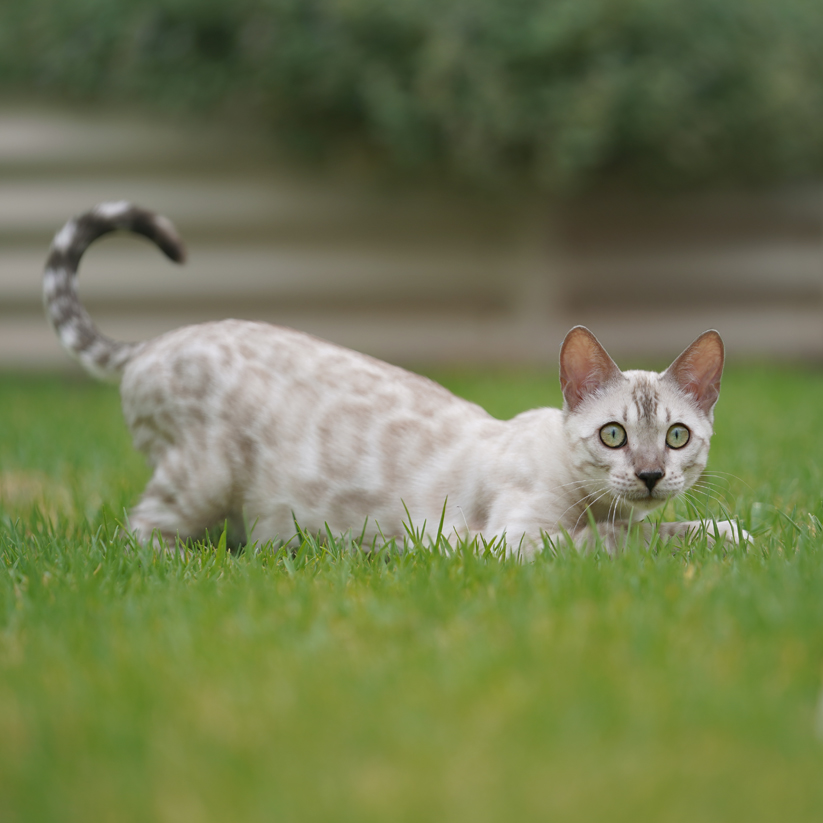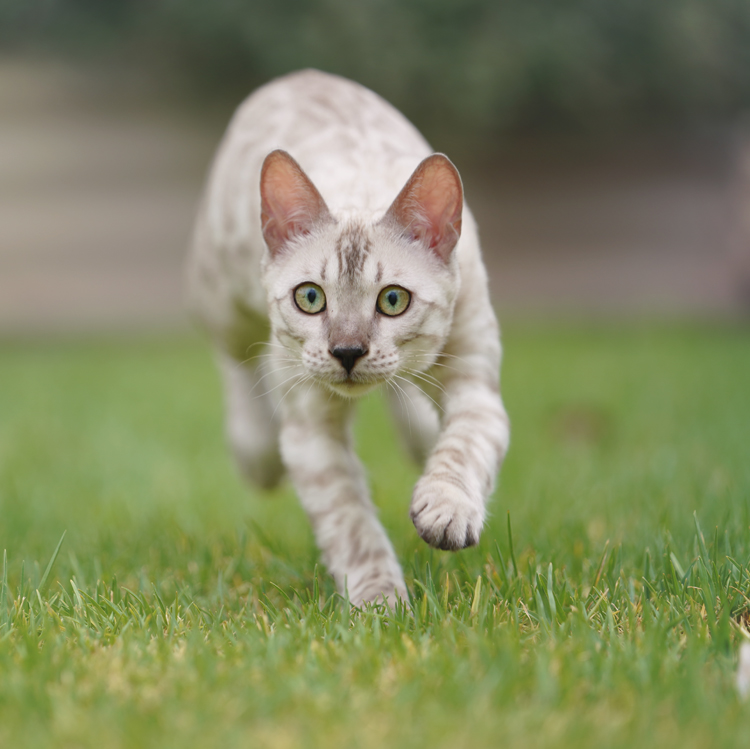 Afrikatte Shady Daze
Cool Brown Bengal Cat – Tri-coloured rosettes
Shady's my giant teddy bear.  A chatty teddy bear where some days I wish I could take a battery out and switch off his voice. 🙂  He's awfully long-winded and if he thinks hes losing your attention, he chats louder.
He's a strapping size with an abundance of superb features. The depth and vibrancy of his pattern and contrast are eye-catching. The warm brown undertone of his coat is the perfect platform to make his cooler coloured rosettes pop. 
Shady's pedigree provides us with the perfect pairing for our female Bengals.  His Sire, Vom Kranichsberg Iced Sugar was imported from Germany and his Dam returns us to breeding lines we worked with and adored back in 2010. It's an honor to work forward with these lines.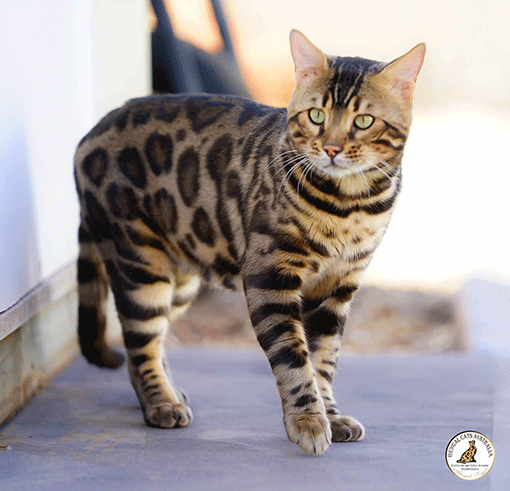 We're a Closed Cattery
For the health and safety of our Bengal cats, we are a closed cattery. This means we do not lease or stud our boys to other catteries or breeding programs.
Nurturing Our Bengal Cats
Our Bengal cats do not free roam, but this doesn't mean they miss out on living life in a spacious, well-equipped safe environment.  On top of having large, multi-level purpose-built enclosures, our Bengal cats have daily supervised run times in open spaces for their emotional enrichment.
In the heat of summer and the cold of winter, they have access to climate-controlled rooms for their comfort.
They proudly own a specially planted garden of cat grass, catnip, and catmint. Each of our Bengal cats indulges in a roll on the concrete,  fresh-cut lawn, or the bark chips under their favourite fruit tree.
Our Bengal boys are experts at playing fetch and when they're not playing fetch you can normally find them staying in shape on our cat exercise wheel.
Our Bengal girls like the finer things in life.  Midday tv, the warm sun coming through the windows, and the comfort of our bed. Like our boys, they have a purpose build sunroom complete with split-system heating and cooling. There are multiple levels for them to enjoy with lots of high cat posts for safe bird watching.
Does the Bengal Cat Appeal To You?
After reading through our site and learning more about the Bengal cat, are you still interested in owning your very own?
If your answer is yes! Click the link and head back to our Kitten page to see our Bengal kittens for sale.