At Ashmiyah Bengal Cats we take a great deal of pride in ensuring we only breed with cats who are proven to produce healthy off spring.
Our Bengal stud cats are fully DNA health tested and are feline FeLV & FiV clear.
Our stud boys are registered breeding cats with certified pedigree papers.
For the health and safety of our Bengal cats & Bengal kittens we do not offer Stud services.
Afrikatte Shady Daze
Shady's my giant teddy bear. He's a strapping size with an abundance of superb features. The depth and vibrancy of his pattern and contrast are eye-catching. Shady's pedigree returns breeding lines we worked with back in 2010. It's an honor to work forward with these lines.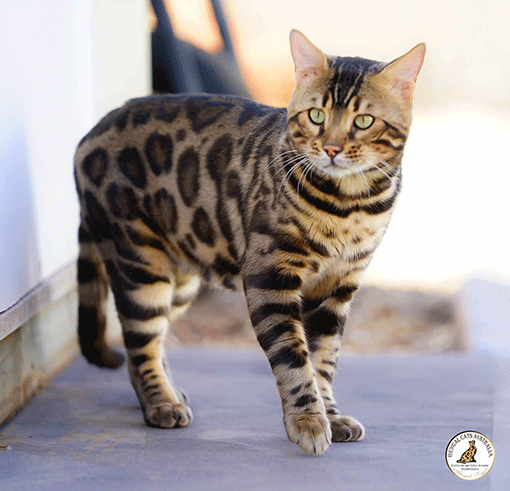 Ashmiyah Hez Got Attitude (Dude)
The Ashmiyah Bengal Cat stud page would not be complete without adding our beloved boy Dude.  Born on the 1st of January 2011, he was destined for exceptional accomplishments.
Nicknamed the Golden God, he has sired some of our most incredible Bengal kittens. Dude gifts them with his cheeky attitude, loving nature and irresistible good looks.