Certified Bengal Cat Breeder
Quality Bengal Cats for Pet & Show homes Since 2009
Loving Bengal Pets
Ashmiyah Bengal Cats have proudly been making family homes across Australia complete with the addition of their beloved Bengal pets.
Exceptional Quality
Our Cats are world class.  This is accredited to our strong focus on breed health and our dedication to the Bengal breed Standard.
New kittens will be added at 10 weeks of age in: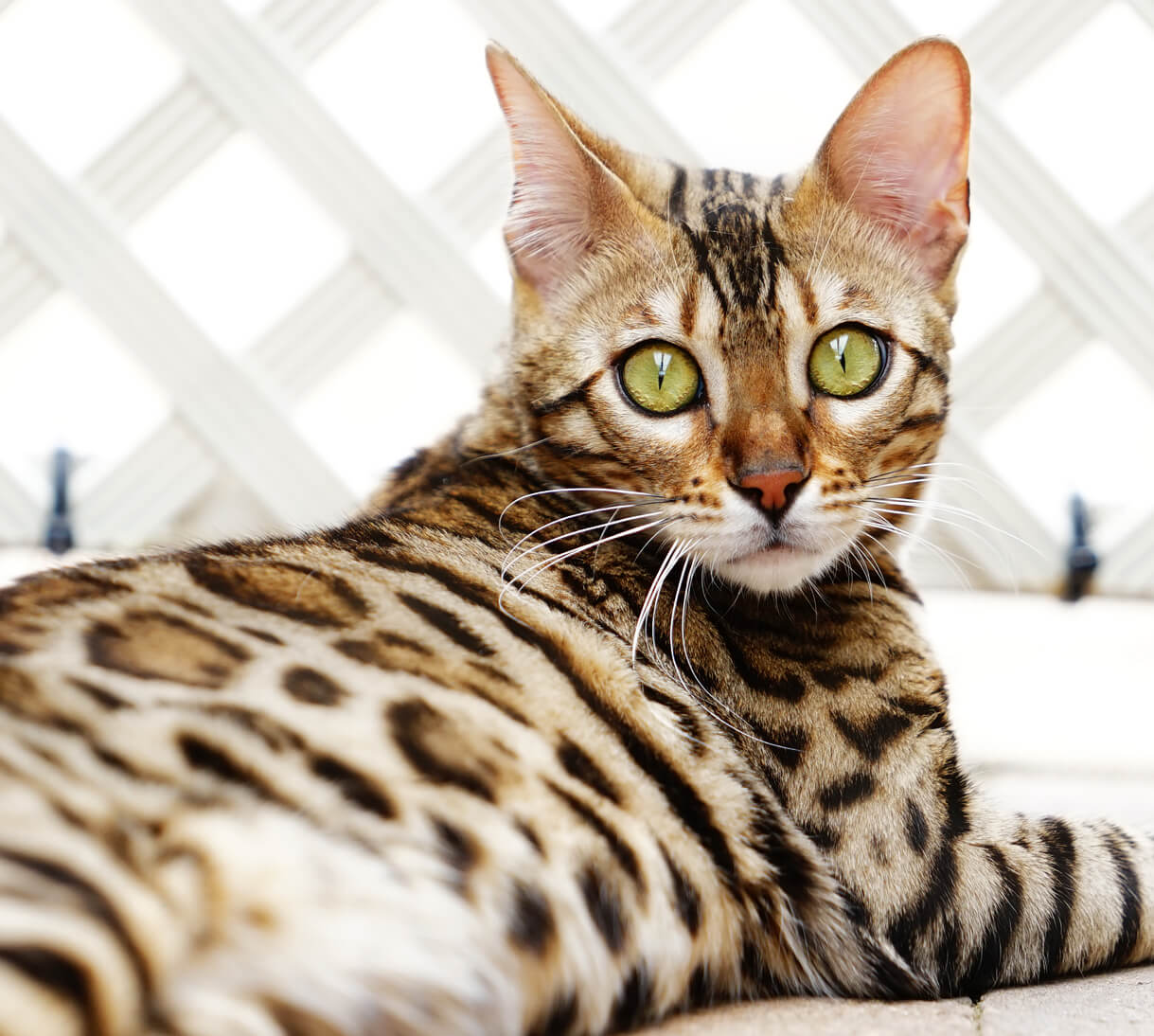 The Ashmiyah Bengal Cat Clan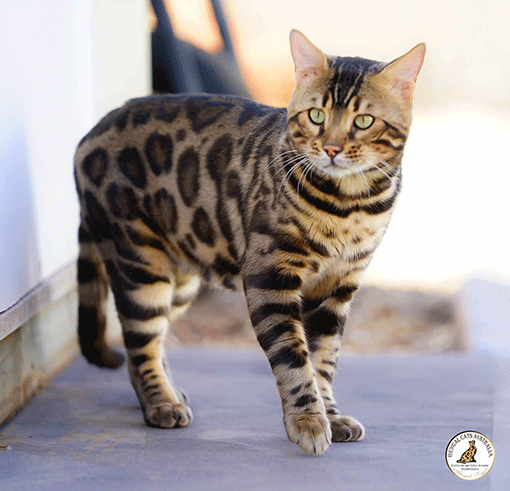 Meet the Ashmiyah boys!  We breed with three very different Brown rosetted Bengal cats and each one bring unique features to the kittens they produce.
Treat yourself to some Bengal kitten cutness and have a look at the latest kittens we have available to pet and show cat homes.
Meet our Bengal girls.  Learn more about their natures and the special little personality quirks they pass on to their kittens.
Founder & Breeder of Ashmiyah Bengal Cats
History
'Ashmiyah Bengal Cats' is a Bengal breeding Cattery. We produce exceptional kittens for family homes and the Cat Show bench. You'll find us located in Adelaide, South Australia.
Our breeding journey began in 2009. We started with a stunning breeding pair of pedigree Bengals. The first stud in the Ashmiyah program was imported all the way from America and our first queen was bred from an overseas Sire and Dam. Both of which came all the way from the United Kingdom.  They were a fantastic match, together they created the very distinctive Áshmiyah Bengal pedigree line' we have today.
Cat Show Quality
During 2009 to 2012 we avidly entered our cats in Cat Shows. Our Ashmiyah Bengal cats and kittens did us proud. Each cat we showed had successful wins.  Many gained Supreme of Show wins and titles.
From 2009 to today, we have dedicated ourselves to exclusively breeding the Bengal breed.  Our commitment to health, temperament and breathtaking quality is unwavering.
Program Focus
Above all else, breed quality is our focus.  We specialise in the brown Rosetted Bengal cats and kittens (BEN24).  Subsequently by concentrating our genetic and pedigree research on just one colour and one breed, we've gained an extensive knowledge of the breeds genetics. This is how we have successfully created some of the countries finest Bengals.
In addition to having over a decade of breed experience, we're highly skilled in all aspects of Animal Husbandry. As a result, we know exactly what care each kitten needs to thrive in their most crucial weeks of life.  Ashmiyah Bengal Cats are proficient in all aspects of neonatal kitten care and socialization.
Read our reviews to see what others have to say about our dedication to the Bengal breed.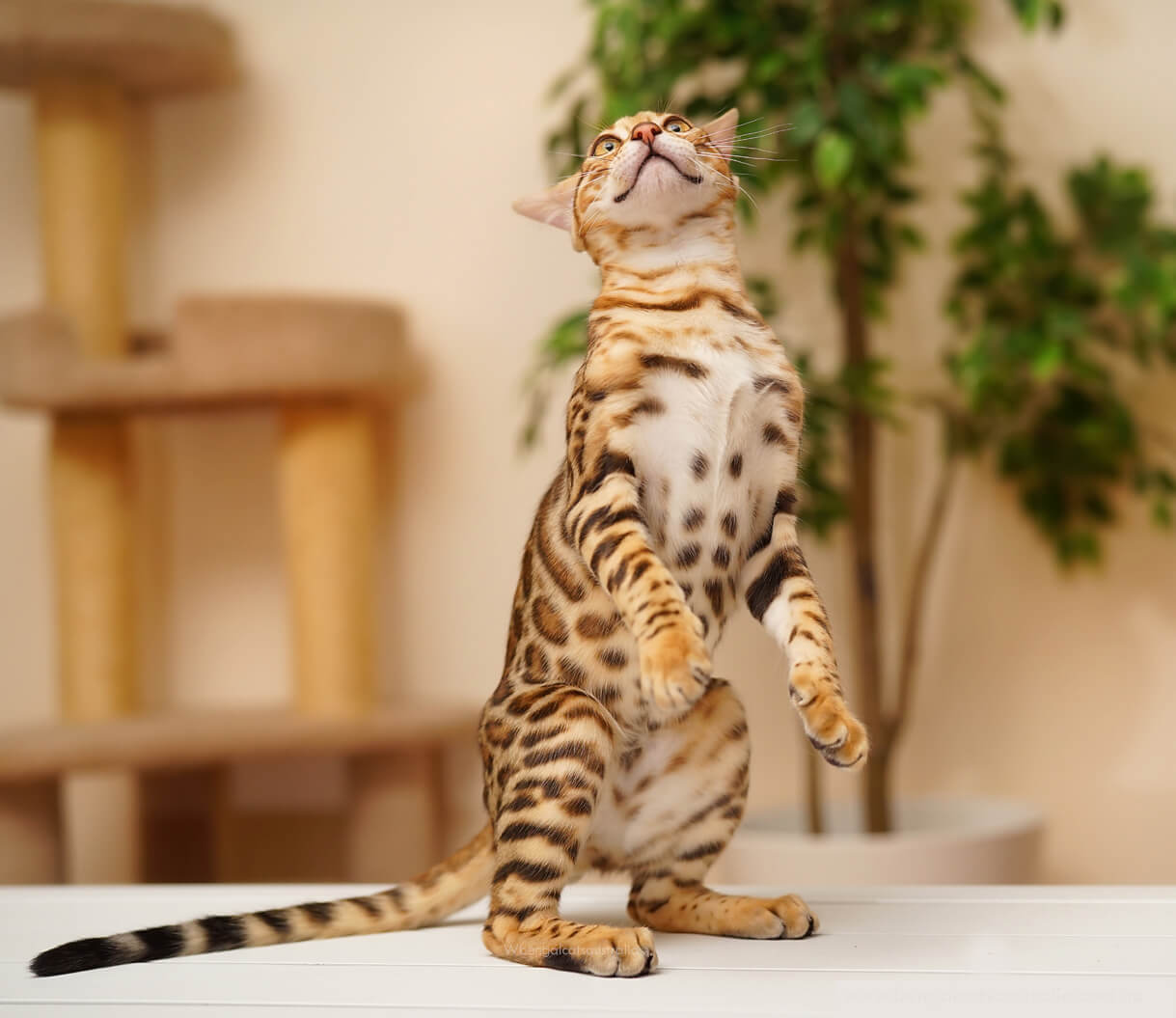 Adult Whited Bengal Cats
Ashmiyah Bengal Cats is known for producing the rare and highly sort after, Whited underside and expression. This is a very difficult trait to lock into pedigree lines.
Whilst many kittens will be born with Whited undersides, many will colour over and darken as they age. A true Whited Bengal cat cannot be confirmed until 2 years of age. 
Rosetted Bengal Cats
Two-Toned rosettes on a Bengal cat with a clear, pale background really makes them resemble little leopards.
We specialise in the Two-Toned Rosetted pattern with very pale backgrounds.  This makes the rosettes pop. The colours are rich and vibrant.
To see more of the colour tones we breed visit our Instagram page.
Address
Adelaide, South Australia