Ashmiyah Bengal Cats
Bengal Cat Breeder of Brown, Silver & Snow Spotted Bengal Kittens in Australia
Latest Kitten News: 19th of June 2022
QUICK!  Don't miss out!
We have 1 very stunning Silver boy looking for his forever home.  He will be ready to join his new home on the 27th of June.
It's not often you'll find such a clear-coated, well-marked, Silver Bengal kitten here in OZ.   
Baxter – Silver rosetted boy – Available (photos on our Kitten page)
 Contact: Lee  PH: 0435942244
We have 1 stunning Retired Bengal Looking for her Forever Home
Are you looking for an adult Bengal cat to join your home?  We currently have 1 gorgeous retiree looking for her special family.
Bengal cats are the finest creatures on earth! If owning one is your greatest desire,  we have kittens!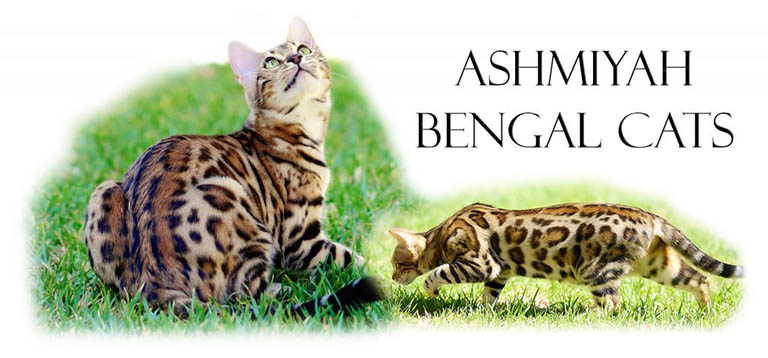 Are you looking for a Bengal kitten to complete your family?
You've arrived at the right place.  Established in 2009 Ashmiyah Bengal cats is an in-home hobby breeding program dedicated to the quality and advancement of the Bengal breed.
We are fully registered with all appropriate associations and each kitten comes with a certified 5 generation pedigree certificate.
While we are located in Adelaide, South Australia, our kittens for sale can be transported interstate and internationally.
Our Bengal cats can be found in every State of Australia. America, Sweeden, and New Zealand!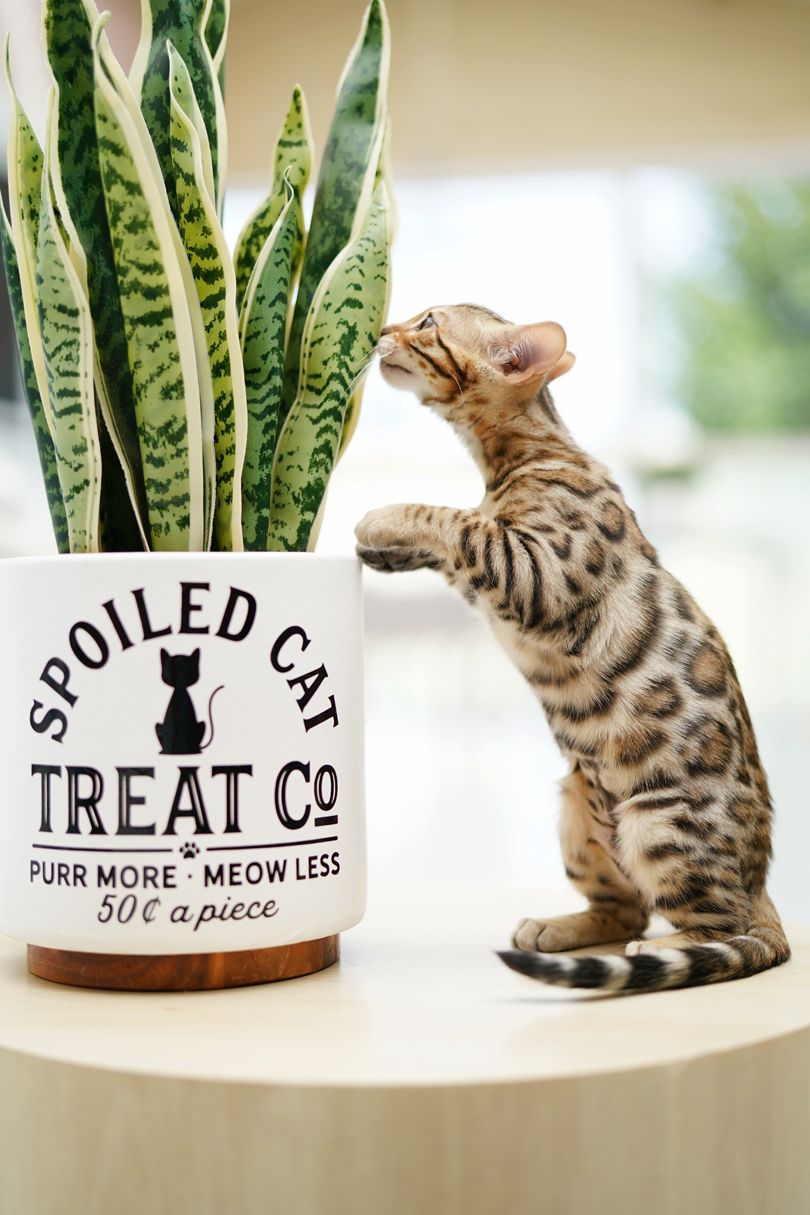 Quality Bengal Breeding Cats
Our breeding Bengals are DNA health tested for our peace of mind and yours!  Tests are conducted at UC Davis in California, which is the most accurate for Bengal cat genetic tests. Healthy parents make healthy kittens!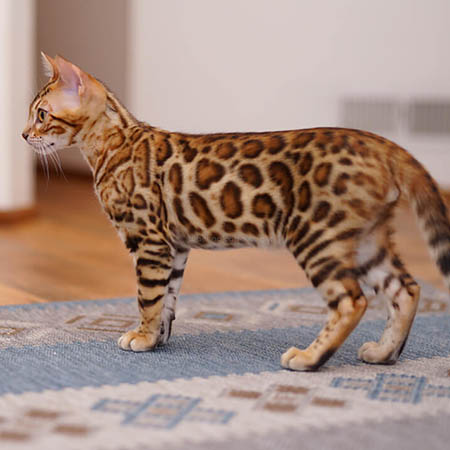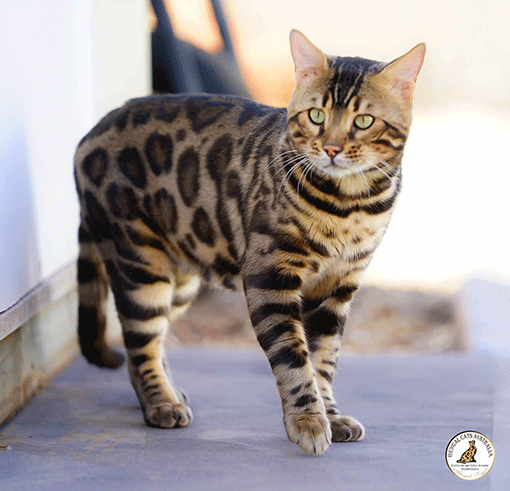 We're Social –
Never miss an update!
There's no better way to know what Bengal cats are like than to be able to see them firsthand doing all the weird, wild, and wonderful things Bengals do.
We guarantee our cats and kittens will melt your hearts and plunge you into cuteness overload!
What patterns and coat colours can be produced at Ashmiyah Bengal Cats?
Warm, golden Browns
Cool Browns
Silver Bengal kittens
Seal Lynx
Seal Mink
Seal Sepia
Blue
Refer to some of our example pictures below
All Bengal cats have unique markings.  They can have a spotted coat. A Marble coat and a rosetted coat.  No two coats are the same.   Rosettes can be solid in one colour. Two-toned (they have a shade the colour of their background colour inside a darker ring) or they can have tri-coloured rosetting.   A complimentary colour inside their rosette that is a different colour to their background colour and rosette ring.
The breeding cats of Ashmiyah Bengal Cats have tri-coloured and two-toned rosetting.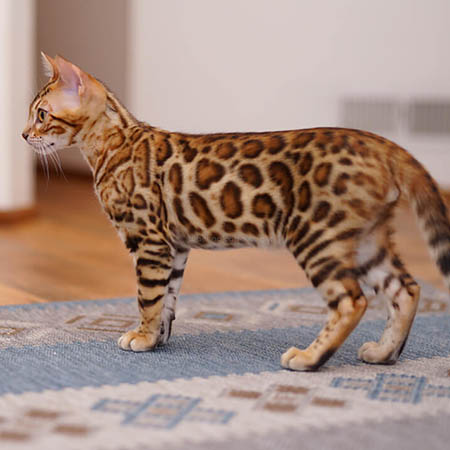 Quality Bengal Breeding
Building a quality program does not happen overnight! Breed and genetic knowledge take years of study. A competent breeder will have a sound knowledge of Bengal cats, pedigree lines, traits, and features, plus cat and kitten health.
We take the quality of the kittens we produce seriously.  If you are looking to buy a Bengal cat you should be expecting a kitten that complies with the breed standard and one which has been born from health-tested pedigree lines. Your kitten should be raised in an environment that nurtures their social skills, temperament and is dedicated to their early training.
Bengal cats are much more than a pretty coat! One of the most mesmerizing features of a Bengal cat is its movement.  The movement is derived from what breeders call Wild Type.  To simplify this term; If a Bengal was stripped of its coat, you should still be able to know the cat is a Bengal by looking at its physique. Body structure counts! You can not place the active, adventurous mind of a Bengal into a body that won't support its thinking or athletic capabilities.
The luxury of the Bengal coat.  My, oh, my! Their coats cannot be beaten. There is no other breed of cat that looks like a Leopard.  Bengal coats have many key features which make or break their quality. Clarity, definition, coat length, pattern placement, and thickness are just a few of the necessary features to create that WOW Factor look of a little Leopard cat.
Temperament is inherited! Our focus has and will always be to ensure our breeding program uses Bengal cats with exceptional temperaments.  This and our early training help our kittens enter multiple different environments and thrive. A confident, well-adjusted kitten is far more likely to integrate into a new home and family allowing you to get straight on to enjoying your new pet.
To surmise, a quality Bengal cat breeder will have a vast knowledge of the Bengal breed and understand kitten development and care.
Ashmiyah Bengal Cats have been breeding Bengal kittens since 2009. We know what we're doing and we love every aspect of raising our kittens and developing our program.
Enjoy Your Visit
We hope you enjoy your visit to Ashmiyah Bengal Cats and that by doing so your knowledge of all things Bengal has increased. If we've taught you something new, we know we're doing our job as advocates for the breed.
We encourage you to contact us for more information about the breed and what kittens we may have for sale.