Bengal kittens are lively adorable balls of feline mischief.  They require a lot of attention and stimulation. Owning a Bengal is a time comitment you should concider carefully.
Our Bengal kittens are for sale to indoor homes who can cater to a Bengals needs and requirments of activity and care.
New Bengal Kittens Due Soon!
Follow the countdown timer for our announcement of new Bengal kittens.  We have a super exciting litter announcement!
Previous 2020 applicants and members of our Kitten Notification List will receive an email from us around the 5th of October updating them with our kitten news.
PLEASE NOTE WE WILL BE CLOSED TO ENQUIRIES UNTIL THE 5th OCTOBER
Closed To Enquiries For The Next:
Bengal Kitten Video Playlist
The video below contains a full playlist of all 5 videos taken of Stryker's kittens.
By watching the whole playlist you can join in and see how much they have grown in size and confidence!  Enjoy!
Kitten Video Playlist Instructions
Option 1
You can watch all the videos in autoplay.
Option 2
Hover over the displayed video and click on the 3 horizontal  lines in the top right corner. This opens a dropdown list of the videos.  From there you can choose which video to watch.
Bengal Kitten Application Form
Applications For Stryker's Litter Have Now Closed!
Stay tuned for a new announcement soon. 🙂 
Bengal Kittens For Sale FQA
Please read. This page contains important information about our Bengal kittens for sale and our process of securing a kitten.
Bengal Kitten Owner Reviews
Ashmiyah Bengal Cats have been selling Bengal kittens for over a decade. We have a trusted reputation. Read our Owner Reviews.
YouTube Bengal Kitten Videos
It's always lovely to see Bengal kittens in action!  This gives you a visual of their health, happiness and energy levels.
See Ashmiyah Bengal Cats in action.
Bengal Kittens
Bengal Kittens are amazing little forces of nature.  Please educate yourself about the Bengal breed before jumping in and purchasing a kitten.
Ashmiyah Bengal Cats are here to answer your questions and guide you to decide if a Bengal is suitable for you.
Bengal kittens and cats require energetic homes.  They thrive on being entertained.  Indoor only homes are important, but Bengals do love supervised harness walks and the joy of soaking up the sun in a safe, custom built outdoor enclosure.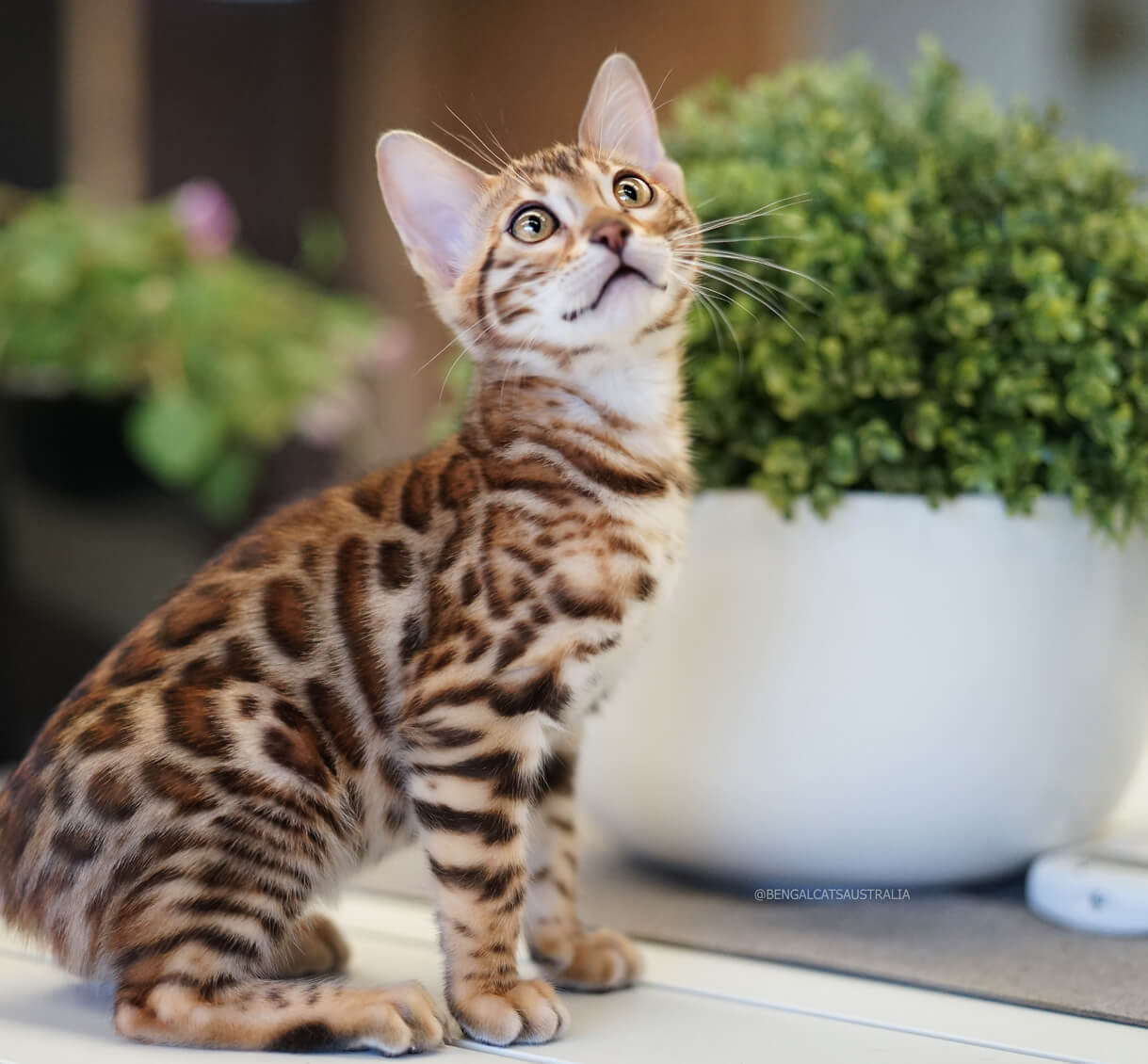 Address
Adelaide, South Australia